JORAPAIN by DARADIA FOUNDATION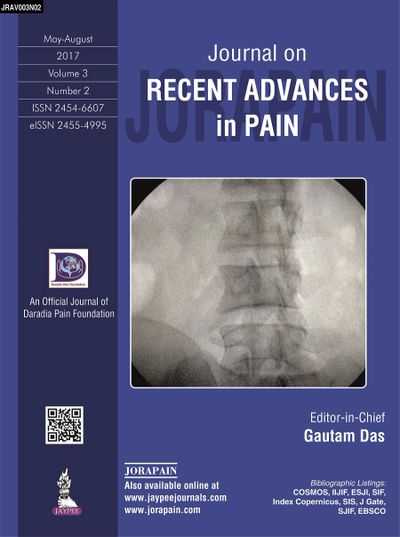 Journal on Recent Advances in Pain
An international journal which focuses on recent advances & researches
JORAPAIN is an international journal which focuses on recent advances and developments in epidemiology, pathophysiology, diagnosis or management of acute, subacute or chronic pain. Journal on Recent Advances in Pain promotes multidisciplinary pain management and articles are invited from all related disciplines like anesthesiology, orthopedics, neurology, and neurosurgery, physical medicine and rehabilitation, psychiatry and psychology, radiology, rheumatology, pharmacology, anatomy, palliative care, etc. but not limited to these disciplines only.
JORAPAIN invites articles
Journal on Recent Advances in Pain also invites articles on care of patients suffering from pain, healthcare policies on pain management and awareness on pain management. Journal on Recent Advances in Pain accept original articles (clinical, experimental, epidemiological or basic science researches), review articles, meta-analysis and systematic reviews, case reports, letter-to-editors and commentaries.
Open access Journal
Your works will be read by wide number of viewers.
Free Journal
No publication fee for submitting articles, no fee for color photo also.